November is National Diabetes Month and this year, as determined by the National Institute of Diabetes and Digestive and Kidney Diseases (NIDDK), the focus is on prediabetes and preventing diabetes. That's because 88 million adults live with prediabetes factors. According to the Centers for Disease Control and Prevention in their National Diabetes Statistics Report of 2020, of the adults diagnosed with diabetes, 15% were smokers, 89% were overweight, and 38% were physically inactive. Another interesting note is that 37% of those diagnosed had chronic kidney disease (stages 1 through 4), and fewer than 25% with moderate to severe chronic kidney disease (stage 3 or 4) were aware of their condition.
Sadly, new diagnosed cases of type 1 and type 2 diabetes have significantly increased among youth in the United States. For those ages 10-19, the incidence of type 2 diabetes remained stable among non-Hispanic whites and increased for all others, especially non-Hispanic blacks. The percentage of adults with prediabetes who were aware of their condition doubled between 2005 and 2016, but most continue to be unaware.
The bottom line is the more people are developing type 1 and type 2 diabetes during their youth, and racial and ethnic minorities continue to develop type 2 diabetes at higher rates. Likewise, the proportion of older people in our nation is increasing, and older people are more likely to have a chronic disease like diabetes. By addressing diabetes, many other related health problems can be prevented or delayed.
Ways you can prevent diabetes
First, if you suspect you have prediabetes or diabetes, consult your doctor. She may recommend that you have your blood drawn to test for signs of diabetes.
If you are overweight, work to get to a healthy BMI (body mass index) and change your diet to incorporate healthy food. Your doctor or diabetes educator will work with you to create a nutrition plan that you can stick with.
Move. Our bodies need to move to keep our digestion track moving, our heart pumping and our muscles working. You don't have to go "kill it" at the gym tomorrow. Start with a short walk – or a walk a bit longer than the day before. There are many ways to track your steps, including counting them as you walk or using a guidepost such as down the driveway and back. Add a few steps every day. When you feel more energy, add some sit ups, push-ups or other doctor-approved exercise.
Track your progress. Some diabetes educators recommend weighing yourself at certain intervals. Weight is one indication of progress. Journal how you "feel" relative to energy and mindset. And, have your blood sugars checked at certain stages recommended by your doctor.
---
Access Diabetes Education at think.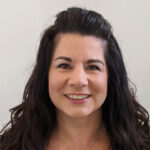 Holly Vail, RD, LD, LMNT, CDCES
Diabetes Educator

Just over one in ten Americans (32.2 million) live with diabetes. Another 88 million adults – approximately one in three – have prediabetes. These numbers from the Centers for Disease Control are high-level statistics, but they likely have meaning for you or someone you know. A good portion of think patients live with diabetes and even more have prediabetes risk factors. That's why think offers diabetes education services via professionals Casey Ocken and Holly Vail who consult with our doctors and patients on how to live healthfully with diabetes and work to prevent it. We interviewed Holly who expressed her dedication to our patients. She works with them on strategies to stay healthy and how to discern and wade through the misinformation that is out there about controlling diabetes. One way is through nutrition.
"My goal is to help people find food plans that help them meet their nutritional needs and overcome barriers to health that have gotten in their way in the past. For instance, I recently worked with a patient who had not received in-depth education on living with diabetes. She's applied what she learned and brought her insulin level down by half."
Learn more about Diabetes Education at think here.